The 13th December is fast approaching and that means the introduction of new EU Regulation changes on communicating food allergen information to consumers on all unpackaged food – is your business ready?
On Tuesday 30th September at 3pm we will be hosting a 20 minute webinar together with the Institute of Hospitality to cover the new law changes, what is expected from your business and how Digital Signage can be used to help your business comply.
What you'll Learn
The 20 minute webinar will cover:
what is required from all businesses that serve unpackaged food and drink to the public
to understand what digital signage is
how digital signage can be used effectively to comply with the new information requirements
Q&A session at the end
Eclipse Digital Media recently provided a guest article that was featured in the Hospitality Magazine Autumn Edition. The article covered digital signage, menu boards and the food allergy law changes due. Read the article below and be sure to sign up for the webinar being held on Tuesday 30th September to learn more about this topic:
Click to view in full on a new window: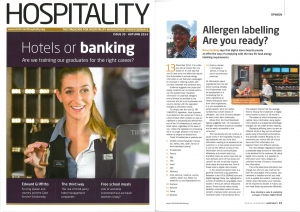 How to Register
Institute of Hospitality Members:
If you are a member of the Institute of Hospitality already you can login and register for the webinar.
Non-Members of Institute of Hospitality:
If you are NOT a member of the Institute of Hospitality then you can still register for the webinar by emailing us with your name, company and email address.
We look forward to welcoming you to the webinar!