DIGITAL SIGNAGE FOR CONSTRUCTION
The Construction sector has an variety of uses for Digital Signage. Whether it be delivering live information about site safety boards that change automatically depending on weather conditions, or Project management and internal messaging.
Below are just a few of the ways Digital Signage can be used within Construction environments:
Keep staff and visitors safe with Site Safety Boards. Display mandatory health and safety information that will not be missed. embed signage can feed live data and dynamic content to the displays when connected to the internet. High-bright outdoor and indoor options are available.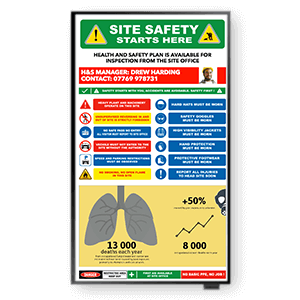 When one display's not big enough, 'wow' visitors with our commercial grade video wall solution. Potentially an huge number of commercial grade displays or tiles can be combined to create you the ultimate video wall. Interested?
PROJECT MANAGEMENT DISPLAYS
---
Keep projects on track with Project Management Displays. Integrate live data* into your digital signage for real-time updates on project progress. Interested?
Bespoke development may be required*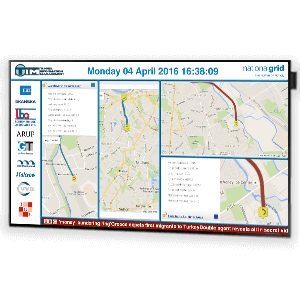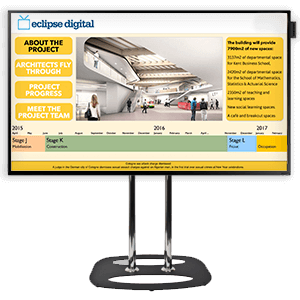 Capture and most importantly sell to your customers interests with Sales and Marketing Displays. 80% of brands experienced an increase of up to 33% in additional sales through the use of digital signage. Flyovers, project overviews, timescales, 4K screens and interactive tablets are just a few ways to captivate your consumer. Interested?
Cut through the extensive amounts of messaging with information that won't end up in their junk folders using Site Office Displays. Promote, motivate and inform. Display live data feeds such as the news feeds, social and current company information to keep the workforce up to date. Interested?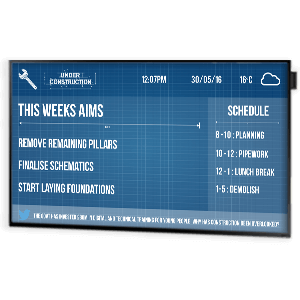 Speak to one of our experts today