Educational facilities, Corporate offices and Healthcare clinics are just a few industries that can benefit from Reception Displays. Internal communications, live social and news feeds, timetables can all be easily updated and delivered via your Reception Displays visitors and staff using a variety of media formats including text, RSS, images and video.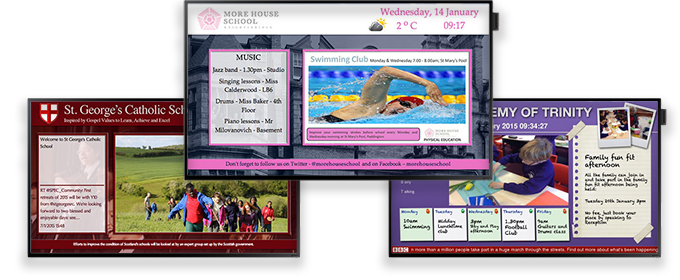 Reception display allow facilities have the power to quickly update content ensuring that the most relevant information is being shown at the most relevant time. Deliver a welcome message for a governing body visit, important information to visitors for changes to facilities or timetables, a showcase of recent awards and achievements and useful advice then a reception display is perfect for you.
The Reception Displays are a range of all-in-one Digital Signage displays developed by Samsung. These commercial grade displays have a built in system on chip known as the Samsung Smart Signage Platform (SSSP). They range from 22″ to 75″, between 350nits brightness and 700nits brightness and come with a three year manufacturer warranty.
Simply connect the Samsung SSP display to the internet and begin using the online Reception Digital Signage software; embedsignage.com to deliver your content directly to the screen.
RECEPTION DISPLAY CLOUD BASED SOFTWARE – embed signage
---
These Reception Displays are powered by the cloud based digital signage software,
embedsignage.com
. This platform provides you all the creative tools needed to create, schedule and distribute multi zone content using the following media types for your layouts:
Images (.png, .gif, .jpg)
Video (.mp4)
Text
RSS
Twitter (hashtag or timeline)
Weather (up to 10 day forecast)
Time
Date
HTML
IPTV Stream(UDP, RTP, RTSP, HTTP)
Screen external input source (HDMI, DVI, VGA, AV etc) – perfect for displaying external Freeview / Sky TV input
BENEFITS OF USING RECEPTION DISPLAYS
Schedule content to play at different times of the the day and days of the week
Create multi zone layouts of multiple media formats
Quickly update information to the screen
User friendly online software
No need for additional hardware, just the all in one reception display and an internet connection
Speak to one of our experts today