KEEPING THE CUSTOMER ENGAGED

CUSTOMER INTERACTIONS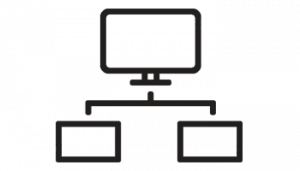 DEVICE INTERACTIONS

GEOFENCING

TOUCHSCREENS
A relatively new concept to digital signage, is the lift/place and learn experience. Combining sensors and controls with RS232 commands you are able to create something like the example shown.
This example is set up using RFID tags, wireless sensors and a media player using embed software. Each product has a tag, which when placed and lifted in range of the sensor, content is triggered on the screen. Obviously this example could be used in retail for product information, however other industries such as education, corporate and hospitality could also benefit from place and learn interactions.
We implemented a place and learn experience for the Apetito customer visitor centre.
Device interactions allow you to control content on a screen from other devices, such as tablets or smartphones, perfect for retail offers and promotions to education learning experiences.
Using the embed software you can communicate commands to/from an external device through RS232 or TCP, and can be used to change settings and manage content on a connected display.
An example of using device interactions is for the project at Portsmouth port. They use device interactions at their security gate, to change content on three separate screens from a tablet on their desk. They are able to change departure and arrival information, such as times and destinations, as well as showing important messaging, keeping their passengers safe and up-to-date.
An IP rating is used in multiple different industries, but can also be used to rate digital screens, to classify the degree of protection provided by an enclosure.
It also defines the level of sealing and its effectiveness against 'ingress', which is the intrusion from foreign objects such as tools, dirt and water.
The outdoor displays we recommend would be IP65 rated, which are enclosed to be totally protected against dust and low pressure jets of water from all directions.
Customer engagement and interaction can happen without them knowing, through geo-fencing and their current location.
Location specific content can be scheduled and published to multiple devices based on their location or the radius from a certain point, perfect for the transportation industry for local information and advertising.
The embed software allows you to add rules to your content for when it is valid to play. The geo-fencing conditional play feature can be used for fixed installations to target devices in a specific location or set up a radius from a certain point that activates content when a device enters that area.
Touchscreens are the most commonly used technology for customer interaction.
Interactive content is always more engaging and converts audiences from viewers to users. Either PCAP or IR technology can be used on screens that can be wall mounted, freestanding and even installed outside, ensuring every space can be transformed into an interactive experience.
Interactions, such as tapping, swiping and zooming, with the ability to have upto 10 simultaneous touch points offer a similar experience used for tablets and smartphones. Interactive content can be used for anything from wayfinding and self-serve kiosks to product and allergy information boards.
Being outdoors and exposed to the elements, digital screens have internal temperature control systems and ambient light sensors.
The internal temperature control system, using internal airflow, keep the screens components running at their optimal temperature to maximise the lifespan of the screen.
Ambient light sensors automatically adjust the screens brightness to withstand the present environment lighting. This prevents the screen being too bright in public areas and prolongs the lifetime of the battery.