Updating your digital signage content regularly is key to keeping your audience engaged with your screens. Seasonal change is the perfect excuse to spice up your digital displays, whether it be holidays, national days or even time changes. Stay 'current'. Leaving content unchanged for long periods only results in your the audience disengaging and as a brand you begin to loose the impact of a very powerful communication tool.
A little change, creativity and care can go a long way in the eyes of the audience.
Content changes do not have to be dramatic and they do not have to be done on the day of an event. Using digital signage software with scheduling functionality means you can pre-schedule certain content to play at relevant times, days or date(s). Below we've highlighted just some of the simple changes you can make to keep your content seasonally fresh.
Keep fresh with simple changes, such as:
Holiday greetings – these don't have to affect the your normal content although content adaption generally seems seamless. Simply schedule the greeting to play every so often.
Seasonal sale offers or promotions are a great way to grab customer attention to seasonal or sale items. There is also a significant halo effect on the family of brands when advertising a product on digital signage. A sales increase of nearly 7x and an overall category increase of 11x that of the featured product has been recorded (Burke, 2009*).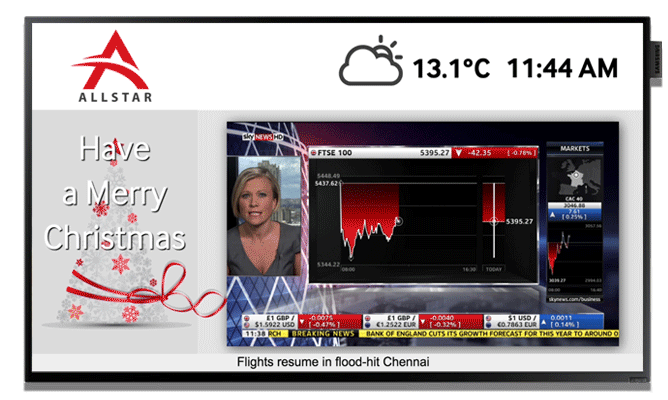 Visual decoration to core design elements of your content can also help keep the signage up-to-date. This, in turn lets your customers and staff know the company is actively developing and delivering relevant content. Change stops content becoming stagnant and therefore draws more attention to the displays as consumers notice the new changes.
Get Creative. Changes don't have to be huge. Subtle changes to the company logo or footer will not go unnoticed, such as a moustache for movember or a poppy for remembrance day. These small changes can help to show a caring and philanthropic company. Bigger changes such as font styles, colours and background images can create more of an impact when deployed with some careful thought.
Current affairs and events such as halloween, valentine's, easter, remembrance sunday, world health day etc are some more examples of how to keep your signage fresh.
A four step strategy to keeping Digital Signage content fresh:
Create a schedule outlining the days / events you wish to make content changes for.
Create all necessary content in advance.
Schedule that content on your digital signage software in advance.
Repeat this process.
How do you keep content fresh? Share your tips and tricks by leaving a comment below.