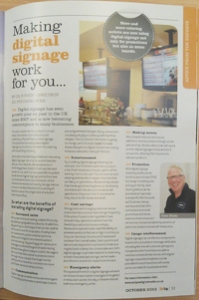 Eclipse Digital Director, Colin Thody, is famous!!!
Well, not really, but he has had his first taste of limelight with Eclipse Digital by providing an 'Ask The Experts' feature for the October 2012 edition of Stir It Up Magazine, prepared each month by leading Foodservice Brand, Country Range.
Stir It Up is a magazine created for independent caterers and is distributed to over 20,000 people covering a full spectrum of independent buyers in the catering industry.
Digital Signage and in particular Digital Menu Boards have been hot topics of conversation in the Foodservice sector recently which is why Stir It Up wanted to run and experts feature on the subject to educate their readers and approached Colin Thody to prepare the article.
Read the full 'Ask The Experts' feature in the online version of October 2012's Stir It Up Magazine.
Keep up to date with everything Eclipse Digital:
Follow Eclipse Digital on Twitter
Follow Colin Thody on Twitter