Change inspires creativity. It creates a dynamic and exciting environment in the workplace. Stagnancy occurs when employees lack motivation, do not have targets and the workplace does not excite. Digital Signage can be the bridge to help alleviate some of these problems.
If you've ever wondered if Digital Signage is worthwhile having in an office / corporate environment then you'll find this post interesting. We explore the numerous ways in which digital signage can be integrated into the office / corporate environment and the positive impact it can have.
Improve Productivity with Digital Signage
A study commissioned by Siemens to investigate SMB Communications revealed that the cumulative cost due to productivity losses resulting from communication barriers, per worker, per year is $26,041! (approx. £18,500 at time of posting).
The loss in productivity includes time spent waiting for information, inefficient coordination, and barriers to collaboration. Using digital signage can provide the solution to these pain points and increase the productivity of a businesses workforce.
Let's look at how digital signage can improve each area:
Waiting for information – this could be many things but let's say for example it was time spent waiting for the latest sales figures from a department or confirmation if the company had gained that special new client. Both of these pieces of information may take time to work their way through the office grapevine to the relevant people who are waiting on this information before they can action their next task, but place this information onto the digital signage and the message is delivered instantly to the entire workforce (or just the selected department screens of course).
Inefficient coordination – difficulty communicating between team members, maybe this is who is going to be out at a meeting or heading on site to carry out some services work? Again, if you put this information up on digital signage (say a weekly meetings / on site employee chart that is easily updated) then everyone in that department knows exactly who is doing what and when.
Barriers to collaboration – this is the difficulty in arranging collaboration sessions with colleagues. In businesses that have many different departments, that all have their own targets and focus, it can be difficult to collaborate with other departments… but should this collaboration occur the benefits can be substantial. Using digital signage to place messages about departmental networking events or day time collaboration sessions, can be a constant reminder and invitation to go and begin those initial collaboration discussions without individuals having to spend the time arranging personally.
Digital Signage is the answer to improving productivity and communication within the office environment. Not only can you display key planning information to specific faculties/departments but there are many other uses, for example:
Motivate the workforce with inspirational messages
Confidently communicate knowing messages will not end up in the junk folder
Display targets, KPIs and achievements to give colleagues and departments focus and recognition
Encourage fellowship through sharing social and networking event videos and photos
Room Booking Digital Signage

Exploring the labyrinth of rooms trying to find one that is empty can be lethargic and time consuming but by using a digital signage room booking system, this need not be a problem anymore. Providing a booking solution that can integrate into the overall corporate Digital Signage network means the business can operate, manage and maintain all digital signage displays under one deployment. Using either LAN or cloud based room booking signage, businesses can reserve rooms for meetings through built in calendars or through integration with external calendar systems such as Office 365 business accounts.
Hybrid Signage / Presentation Displays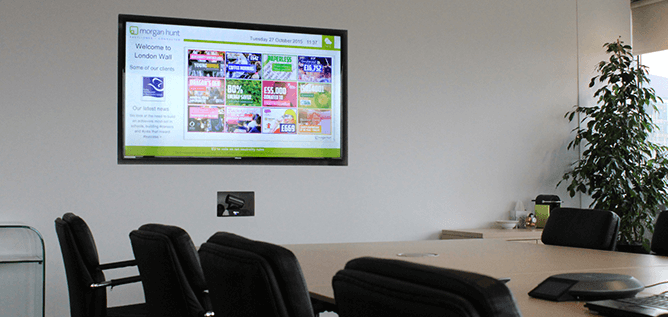 Most meeting rooms include a display of some sort for employees to connect laptops for presentations etc but why not use them for both digital signage and the traditional meeting room display – a hybrid for multiple uses.
By using the right products, businesses can install commercial grade displays that run digital signage content and then when an employee connects a laptop (via HDMI etc) it shows that connection on the display. This could be the entire display or even just a section, leaving the critical digital signage messaging visible for example, technical support's telephone number and the meeting room ID or notifications about the next fire alarm test.
Knowledge is Power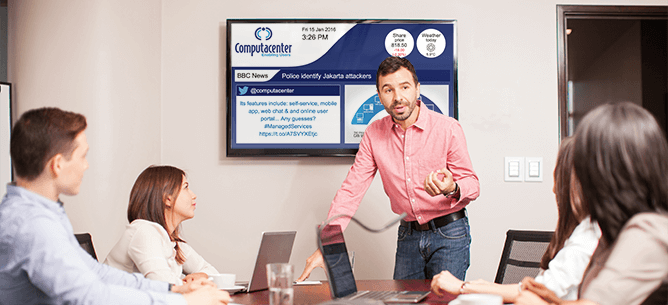 Live data feeds can be easily integrated into digital signage content through widgets and plugins. Twitter, RSS, Stocks and Weather are just a few of the widgets that can be used to keep employees informed with the 'outside world', giving them realtime insight and information.
This can not only spark internal social conversations but more importantly, it can be used to make informed business decisions, from when to order certain products, to managing the business brand reputation.
Wayfinding

Digital Signage wayfinding applications can be used in corporate / office environments in key locations such as building reception areas or even throughout the building walkways to help visitors and staff get to where they need to be, on time. Both non-touch and touch digital signage devices can be used but for maximum assistance, a guided touch application would be best and would also portray the business as a modern, forward thinking brand – a great impression for any new potential clients or employees.
Streaming Live Video
IPTV (streaming video/tv across a network) allows the broadcasting of a live video feed to through a streaming IP address. Live CEO announcements could be streamed via IPTV and displayed directly to the digital signage, company-wide, keeping everyone in-the-know.
Alternatively, you could display an input from a local device / source. This means you could receive a video feed through a HDMI input to the digital signage, allowing devices such as a TV set top box or other media player to be displayed into a portion of the screen, or even the whole of the display.
Saving Lives With Digital Signage
In the event of an emergency, making sure everyone is aware and evacuates accordingly is of the utmost importance. Integrating the emergency systems to trigger content on the digital signage displays may be a great way to go but you could also consider using another touch device to trigger content on the displays. You could instantly display evacuation or safety messages throughout the building at a push of a button on a tablet or smartphone, potentially saving lives.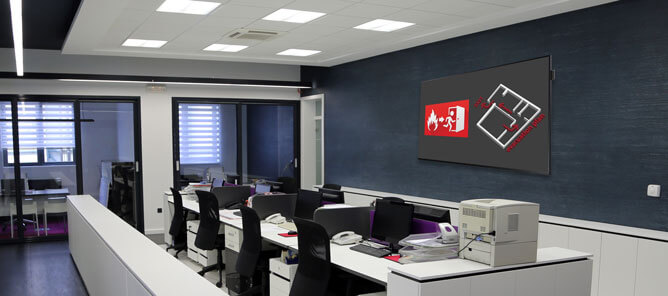 Not only is Digital Signage great for aiding in emergency situations but it can also be used as a preventative measure. Use certain screens to display advanced evacuation procedures, details of trained first aiders, relevant health and safety messages to comply with Health and Safety at Work Regulations 1999, advice on wellbeing guidance to help staff stay healthy physically and mentally plus any other key messages relevant to keeping your workforce safe.
Reinforce Company Culture
Your brand is one of your biggest assets. Keep employees and visitors believing in your brand and what it stands for. Announce company events and gatherings, post the latest business insights and employee benefit schemes. Using company-wide signage, you'll portray a forward thinking, innovative and exciting company to some very important people… your staff.

Delegate to Employees Strengths
Management can delegate user permissions to different users or personnel. For example, only giving access to update the message of the day to the reception staff. This precaution will prevent accidents with the software; resulting in loss of communication and as stated in the beginning, time and money.
Better Together
If you've made it this far, you now realise Digital Signage in corporate environments is an extremely powerful and flexible communication tool. We've highlighted the many benefits in entails and with our expert experience of delivering digital signage solutions, we're here to help you begin your journey to a better business. Please contact us here so we can work together to take your company to the next level of corporate communications.