Digital Menu Boards provide a cost effective way to easily update and quickly change menu and promotional content. They provide an opportunity to reduce menu printing costs, increased brand awareness, instantly change promotional items and ultimately give businesses the marketing control they need.
Key Features of Digital Menu Boards
Central and local updating of menu boards
Easily and quickly update content – reactive & proactive
Push content to all locations or single
Reduce menu printing costs
Automatically schedule content to appear at certain times of day
Provides a visually stimulating and engaging way to display content
Improve operational efficiency
Increase positive brand perception
Average time to Recoup investment in Digital Menus
Typically it will take a business that invests in Digital Menu Boards will recoup their investment between 9 and 18 months. See the chart below to see the average break even point based on the total amount invested in digital menus.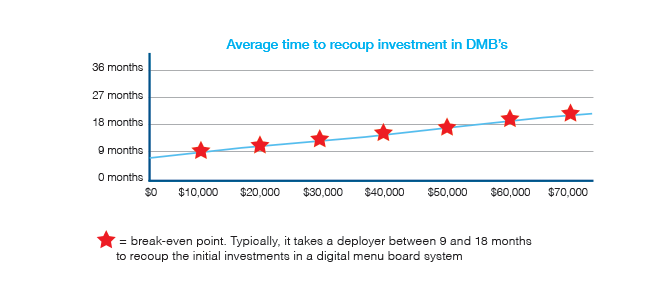 "From the examinations that we've done in restaurant we've seen varying results, anywhere from nine months to 18 months"
Ernesto Smith, senior director of U.S. merchandising and calendar planning at Burger King
Digital Menu Board ROI
The benefits of Digital Menu Boards are broad; there are the measurable return on investment (ROI) figures of sales uplift and margin per transaction, as well as soft ROI benefits such as reduced perceived waiting times and an increase in customer satisfaction.
Hard ROI benefits of Digital Menu Boards
Average sales uplift of 3%-5%
Average increase of margin per transaction of 2.5%-3%
29.5% of customers find digital menus influential for purchase of a product
1 in 5 people make an unplanned purchase after seeing items featured on digital screens
Example sales uplift figures based on 3%-5%:


Soft ROI benefits of Digital Menu Boards
Increase in positive Brand Perception
52% of customers recall seeing content on digital displays (more than TV, Radio, Online Ads, Magazines, Newspapers and Billboards)
59% of people who come into contact with digital signage want to learn more about the advertised topic
Increase customer turnover by guiding purchases through content
Brighter, eye-catching information that captivates the audience
Instantly update content allowing you to be proactive and reactive to real world events
Improved operational efficiency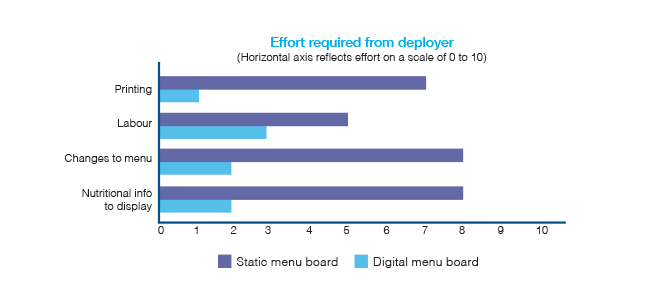 Planning a Digital Menu Board Project?
If you're planning a digital menu board project, speak to us about how we can help you deploy digital menus in your business effectively.
Statistics sourced from Digital Menu Boards and ROI report by DigitalSignageToday.com