EMBED SIGNAGE
ROOM BOOKING SYSTEM
Take a look at this incredibly simple meeting room system that does exactly what it says on the tin. This Room booking system is a plugin for embed signage that can either be used as a standalone product or as part of an existing embed signage network. It provides users with a set of simple features to manage a variety of meeting room displays. It's managed using the built in online calendar but it can also be sync'd with a Microsoft Office 365 Business Account's Outlook Calendar.
ROOM BOOKING SOFTWARE OVERVIEW
---
This Room Booking system really is simple to use, allowing businesses to create multiple room booking systems for different locations, add an unlimited number of rooms and associate displays to each room. Add, edit, delete and easily customise the 'available' and 'booked' room status designs.
Office 365 Calendar Integration
Easily integrate an Office 365 Business account with the room booking system to automatically update the room displays directly from the Outlook calendar. This two-way communication means both the in built online calendar and the Office 365 calendar will automatically update between both platforms, always ensuring the events scheduled are up to date.
Not using Office 365? Not a problem.
The embed signage room booking system has its own fully fledged booking calendar.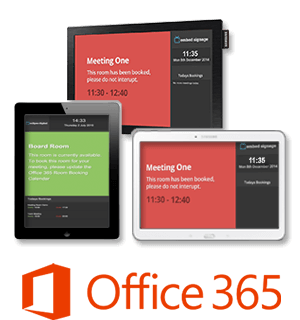 WIDE RANGE OF DISPLAY SUPPORT
Supporting a variety of device operating systems gives businesses the flexibility to choose the right meeting room displays for their project. Displays such as the 10″ or 22″ Samsung Smart Signage Platform (D & E series) are ideal partners for the Room Booking solution. Devices such as an iPad (iOS6+) or Android (4.2+) tablet are also compatible along with Windows 7+ or Mac OSX 10.7+ devices.
CUSTOMISE THE DISPLAY DESIGNS
---
Using the customisation features, businesses can ensure the room displays match the company branding for both available and booked room states. Custom logo and fonts can be added to retain consistent branding and each meeting can be personalised by adding a unique logo and or personal greeting message.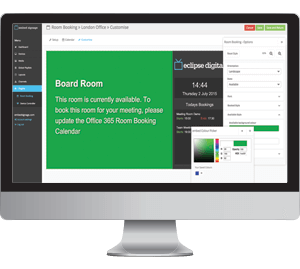 JUST ROOM BOOKING?
OR PART OF YOUR DIGITAL SIGNAGE NETWORK?
This Room booking solution is a plugin for embed signage that can either be used completely independently or as part of an existing embed signage digital signage network.
Speak to one of our experts today