Product Description
Robust Performance and Power
---
SI-304 is powered by a 2nd Generation
AMD Embedded R-Series accelerated processing unit (APU)
with AMD Radeon™ HD 9000 graphics to deliver breakthrough graphics performance and power efficiency. It has rich I/O connectivity with 2x USB 3.0, 1x USB 2.0, and 3x RJ45 for 2x Gigabit LAN and 1x RS232, with expansion features for WiFi & Bluetooth or 4G. The unit is designed with a segregated ventilation to keep contaminants out and enhance system stability.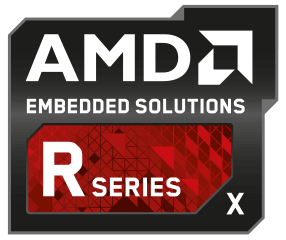 Quad 4K HDMI Output with built-in EDID
---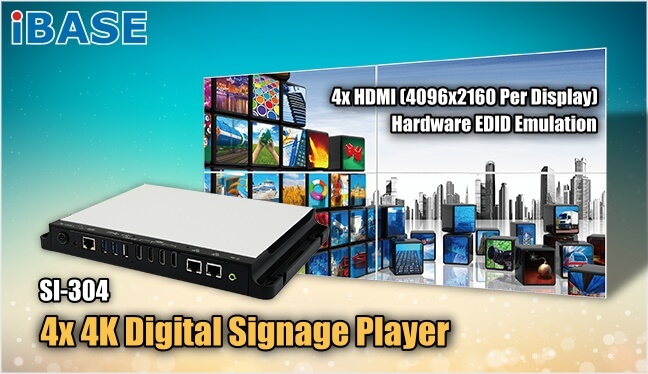 The SI-304 boasts four HDMI outputs supporting up to 4096 x 2160 4K resolution for every display channel. The outputs also include hardware EDID emulation meaning if one screen goes down / output is removed, the other outputs remain unaltered. This avoids any unwanted squashing / convergence of content being displayed.
iSMART Technology
---
iSMART is a unique technology that iBASE created for protecting and enabling systems. iSMART provides various options via the BIOS such as automatic power on/off scheduling (shutdown and autostart OS), power failure detection and temperature monitoring to reduce downtime and save power.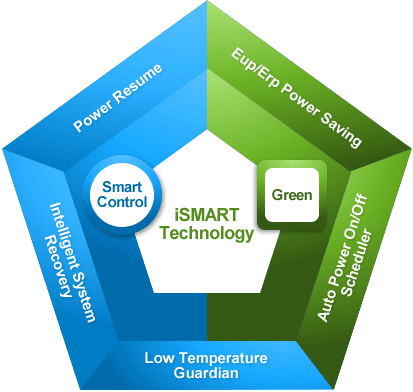 Optional Digital Signage Software
---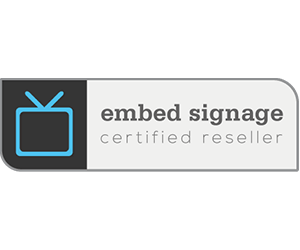 Use this device with
embed signage
to maximise the features of the unit for Digital Signage running Windows OS.
Features include:
Multi-output support, perfect for video walls, menu boards and other multi-screen applications
Live streams via YouTube and IPTV supported
Customise position and dimension of content playback, ideal for LED walls
Run software in Kiosk mode to 'lock down' device
RS232 support for triggering content
Download PDF
---
iBASE SI-304 Datasheet PDF
Buying bulk?
---
For the best prices give us a call on: +44 (0)8450 944 954