CLIENT
Siemens, the leading global engineering and technology services company, has been active in the United Kingdom for over 170 years.
Siemens provide innovative solutions to help tackle the UK's major challenges, across the key sectors of energy, industry, infrastructure & cities and healthcare. Siemens has a significant presence throughout the UK, with 13 manufacturing sites and more than 25 major offices.
ASSESS
Siemens required an internal communications tool to enable its marketing and corporate communications team to efficiently and effectively deliver messages to the right areas of their business at the right time. They wanted central and local control with the ability to use live TV and display data at various locations.
Hardware
Working with Siemens for a number of years, Eclipse Digital Media have consulted with the Siemens HQ comms team on an ongoing basis to scope out nationwide digital signage network that could be segmented and targetted as required.
The Digital Signage solution provided was a ONELAN CMS hosted centrally with a nationwide network of subscribers. At various locations, HD encoders have been installed to stream Live TV across site locations.
Multiple Locations
The centralised ONELAN solution has currently been installed in 21 UK office locations including Manchester, Leeds, Hull, Congleton, Newcastle, Poole and the UK Head Office based in Frimley. This continues to grow in the UK.
Targeted Messaging
A content strategy has been developed by Eclipse Digital with Siemens to put every display in the network to use in the most effective and appropriate way. This includes, various layout templates which have a combination of external and internal news alongside dynamic information and site specific access to update content. Some sites have also chosen to use 55″ interactive touch screens to deliver a wide range of information to their employees.
Eclipse Digital Media have developed bespoke KPI data graphs using ONELAN's Data Collection Engine software allowing Siemens offices to display real time KPI data from internal systems to display critical information for employees and their key business objectives.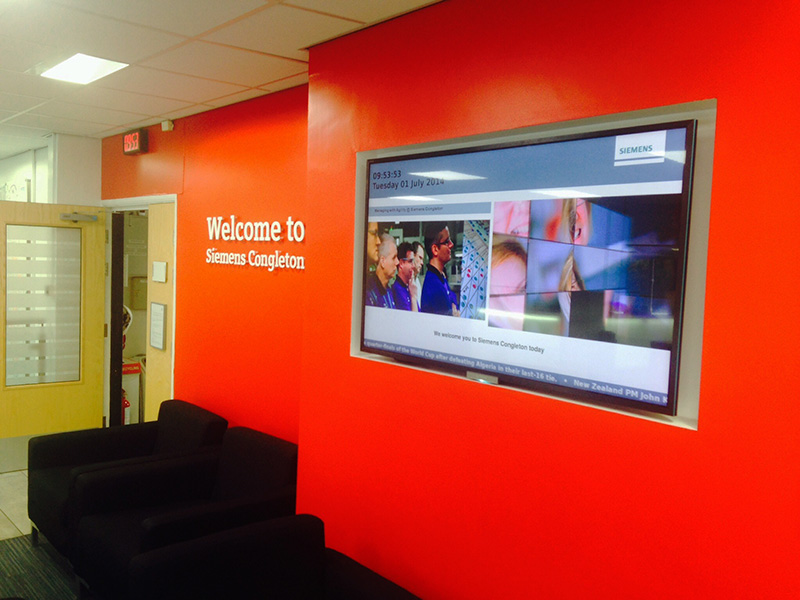 "Eclipse Digital provided excellent customer service; they worked with us from the start to fully understand our needs and were committed to making our Digital Signage project a success"
Andrew Cowey, Strategy Manager, Siemens Industry
RESULTS
+ Eye-Catching Communication Tool
+ Central, Site and Screen Specific Control
+ Approximately 8,000 Employees Reached
DON'T JUST TAKE OUR WORD FOR IT.
Speak to one of our experts today