"Having the support of Eclipse Digital for our digital projects is invaluable. Their positive attitude, collaborative nature and distinct technical expertise gives us full confidence in the solutions we're deploying throughout our estate"
Phil Goldsmith, Content Executive, Krispy Kreme UK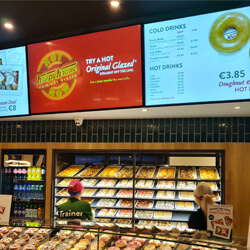 DIGITAL MENUS
Throughout the UK and Ireland, Krispy Kreme use Digital Menu Boards in Theatre Stores, Fresh Shops and Rockets.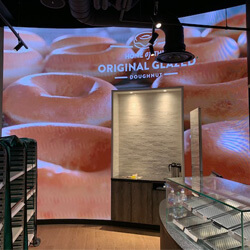 DIRECT VIEW LED
In high profile locations such as Westfield Stratford, Baker Street and Canary Wharf, Krispy Kreme use indoor Direct View LED.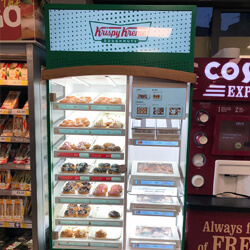 GEN8 CABINETS
Rolling out over the UK are Krispy Kreme's GEN8 Cabinets offering a digital experience designed to surprise and delight customers at the point of purchase.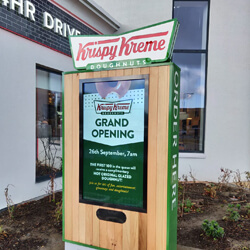 DRIVE THRUS
Popping up across the UK are the Krispy Kreme Drive Thrus offering a new way for customers to enjoy doughnuts.
CLIENT BACKGROUND
Krispy Kreme are makers of world-famous doughnuts with a heritage dating back to 1937 in Winston-Salem, North Carolina. In the UK, they boast hundreds of locations where customers can buy their doughnuts made fresh, daily.
About Theravada
Theravada are IT solution providers operating in the UK, Europe and North Africa. They specialise in providing information technology solutions including end-to-end consulting, product and service design, delivery and support. Theravada are Krispy Kreme's primary IT solution provider, helping to deliver all things digital and IT throughout the Krispy Kreme UK estate.
CHOSEN FOR EXPERTISE
Krispy Kreme have been driven towards a digital transformation for years and tasked their IT solution provider Theravada to help achieve this. Theravada built a strong relationship with Eclipse Digital through many meetings and working on initial trial stores. After verifying Eclipse Digital's services and valuing the expertise offered by the team, Theravada sub-contracted Eclipse Digital to provide a variety of Digital Signage services including hardware architecture, supply and commissioning, LED installation and ongoing support.
Overview
Krispy Kreme have been rolling out digital menu boards to their nationwide Theatre stores, Fresh shops, Rockets and Drive Thrus. The digital menus come in various configurations including:
Single screen landscape / portrait
5×1 portrait
3×1 landscape
2×1 portrait
Video walls
Large stretched screens
Shelf edge displays
Theravada provide the full solution to Krispy Kreme with the screen technology, installation services and support. The media player hardware supply, commissioning and software support is sub-contracted to Eclipse Digital.
Eclipse Digital work to provide excellent support service to Theravada and take care of the media player setup process, ensuring they are fully commissioned and pre-configured with store content, ready to be installed by the Theravada engineers.
Software
embed signage is the digital signage software used throughout the Krispy Kreme estate. The software provides Krispy Kreme with the flexibility for hardware choices due to the vast selection of hardware supported. The software offers support for unlimited resolution configurations and gives scheduling tools to allow for campaigns to be easily scheduled and rules specified to activate different content.
The software includes functionality to sync content, integrate external systems such as LED lighting and for devices to trigger content on other devices… plus many more features which Krispy Kreme use depending on the store and customer experience required.
The menu board content consists of a combination images and menu pricing along with animated promo sections, some animations covering just one screen, others covering small sections of a screen. At specific intervals, the entire menu board (2×1, 3×1, 5×1 configurations) will show a take over that goes over all screens making a huge visual impact.
"The main reason for choosing embed is the user experience. Based on the others I have seen on the market this is by far the best. Not only visually but intuitively too. On top of that, the features are extensive and the support from the team is second to none"
Mike Tinnion, Senior Creative & Content Manager, Krispy Kreme UK
"Working with Eclipse Digital has been a great success. Their team brings a deep level of expertise to the projects we work on and they always do everything they can to support us and the client. On top of that, they're a friendly bunch too which makes for a great working relationship. We are proud to work with Eclipse Digital and look forward to working on many more projects together."
Lee Allchorne, Field Service Delivery Manager, Theravada
Overview
Krispy Kreme were looking to make fundamental changes to how the doughnuts were presented and sold in-store at partner sites such as Tesco and Welcome Break, through the introduction of digital technology to their cabinets. The new digital cabinets, dubbed 'GEN8 cabs' (being the 8th generation of the sales cabinets), were set to be unique, groundbreaking and ultimately a tool for increasing sales.
"The initial trial in 15 Tesco stores has gone very well and we are now pleased to continue the rollout into many more"
Suk Nicholas, Sales Director, Krispy Kreme UK
Technology
Each cabinet has digital header screens (one front 37″, one left 21″, one right 21″), which are used to reinforce key brand messages such as 'Made Fresh Daily' as well as providing specific tailored content depending on the store, the time of day, and the season.
There is a 15" HD display mounted internally which is used to deliver brand messages and promotion material such as 'how it's made' films along with 'Buy a Dozen' promotions.
The cabinets also include digital shelf edge labels (SELs) which are used to display attractor loops (e.g. a waterfall of doughnuts) to catch the eye of customers, as well as full product ingredient specs, enabling customers to easily check for any allergens.
Presence sensors are used to detect when human presence is within a specific area in front of the cabinet. This triggers content to change on the SELs, which switch from a waterfall of doughnuts to fixed product information in order for the customer to make their purchase decision.
Finally, the cabinets include an LED light strip at the bottom which illuminate the floor below giving off a 'floating' effect. The colour can be changed to match the content and brand messaging for example, when running the Valentine's campaign, the colour theme on screen was red so the LED strip was changed to red to match.
All of the content, sensor parameters, triggers and LED strip colours are controlled via one cloud based digital signage software; embed signage.
Working Together
Project lead & primary supplier: Theravada
Digital Signage media players, presence sensors and LED light controller hardware supply and commissioning: Eclipse Digital
Primary cabinet support provider: Theravada
Digital Signage software support: Eclipse Digital
"The cabinets really showcase the opportunity for brands such as Krispy Kreme to deliver a clear message and drive customer interaction in a very busy in-store environment"
Rob Craig, Managing Director, Theravada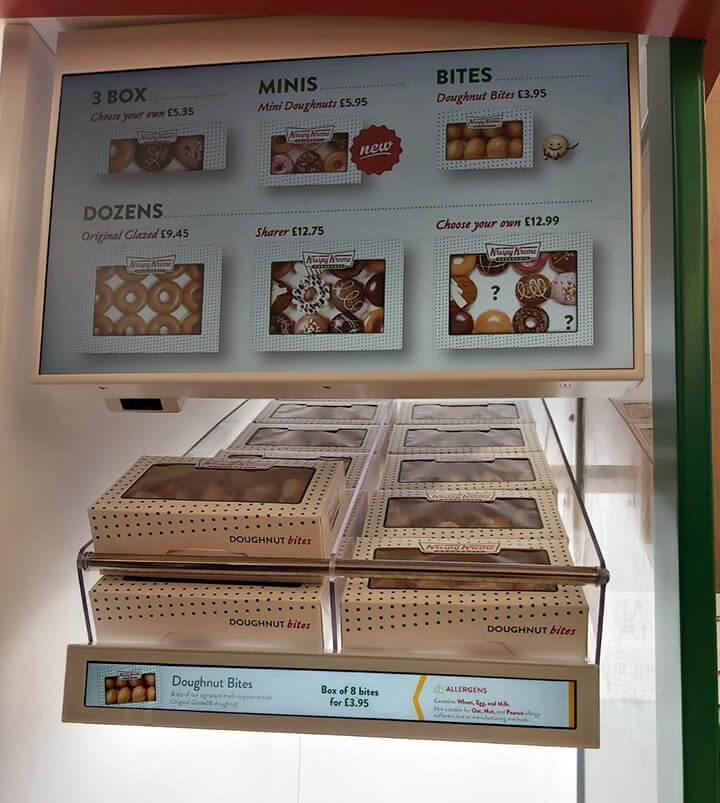 "The introduction of the GEN8 cabinet has rewarded Krispy Kreme with unprecedented sales and revenue from the off premise side of the business, and we hope to see this continue with the introduction of more GEN8 cabinets"
Phil Goldsmith
Content Executive, Krispy Kreme UK
Overview
In some stand out locations Krispy Kreme needed screens with a big impact and unique size. They scoped a variety of Direct View LED products through Theravada who commissioned Eclipse Digital to design, supply, install and commission the LED solutions.
Technology
Eclipse Digital specified a range of Absen indoor direct view LED products to be used in various locations. The pixel pitch selected was 2.4mm and offered a range of module sizes to meet the unique spaces.
Absen LED was installed at:
Canary Wharf – 2 x LED portrait banners
Baker Street – 1 x LED landscape header
Westfield Stratford – 1 x concave LED wall with cut out area for condiments
Using embed signage provides Krispy Kreme with the ability to make any resolution screen. The software provides application features designed specifically for LED walls including the ability to specify the exact size and position of content playback, making it a perfect option for direct view LED.
Overview
At Krispy Kreme's Westfield Stratford location, there was a requirement to bring the 'Hot Now' Doughnut theatre to life and deliver a real spectacle for the customer.
Doughnuts are made fresh on site every day and come out hot ready to eat. To bring more theatre to this, Krispy Kreme wanted a countdown experience to build excitement to when the hot doughnuts would be ready.
Technology
It all starts with a 10″ touch screen tablet where staff on site can activate the Hot Now countdown. They press a button on the screen and this kick-starts the countdown on the 5×1 Portrait Digital Menus.
During the 30 minute countdown, content changes in a variety of ways, every 5 minutes, to highlight how long is left including a full screen promo takeover crescendo on both the 5×1 portrait digital menus and the 2×1 portrait digital menus.
Once the countdown has completed, the menu content on the 2×1 and 5×1 switch to the HOT NOW menu and promo content, the lights dim in store and the red HOT NOW sign above the serving counter, red LED lighting around the serving 'hole in the wall' as well as the main store entrance sign all activate.
Technology used to deliver the HOT NOW experience:
10″ POE touch screen tablet for countdown activation
Samsung Video Wall Screens with iBASE digital signage media players for 2×1 and 5×1 portrait menus
Mode Lighting Tiger Power Units with iBASE digital signage media player for lighting control
The content, device communication and light system integration is managed via embed signage
Overview
Krispy Kreme Drive Thrus are quite a hit across UK and Ireland with more rolling out each year.
Tuning into their audience and providing more ways in which people can conveniently obtain a luxurious sweet treat, Krispy Kreme have opened various Drive Thru locations with huge success.
Alongside digital menu boards inside the stores, Krispy Kreme also needed digital screens to provide promotional material and menu content to drivers as part of the drive thru experience.
Technology
Theravada designed, supplied and installed Krispy Kreme's bespoke drive thru totems. These beautiful totems, include Samsung high bright outdoor screens together with iBASE digital signage media players.
Since 2020, Eclipse Digital have supplied the screens as well as the digital signage media players for the totems. Eclipse Digital also commission and support the digital signage players as well as support the software used in various locations such as Manchester, Peterborough, Enfield and Edinburgh.
RESULTS
"Having the support of Eclipse Digital for our digital projects is invaluable. Their positive attitude, collaborative nature and distinct technical expertise gives us full confidence in the solutions we're deploying throughout our estate.
Eclipse Digital consistently delivers forward-thinking ideas and solutions and they are incredibly responsive to our digital ambitions.
The process of working with Eclipse Digital and Theravada is seamless. Everyone respects the work-flow processes and collaborates with a focus on the same objective; which is to deliver reliable and feature rich digital experiences for our customers be that in our stores or our off premise environments.
We highly recommend working with Eclipse Digital."
Phil Goldsmith, Content Executive, Krispy Kreme UK
DON'T JUST TAKE OUR WORD FOR IT.
Speak to one of our experts today