DIGITAL SIGNAGE IN HEALTHCARE
Digital signage can be applied in many ways within hospitals and other healthcare facilities. It can be used effectively to educate and entertain patients, reducing perceived waiting times as well as ensuring all staff are informed and up to date with the latest announcements and news. Because of the many ways in which digital signage can be used within the healthcare industry it can help to free up staff time to focus on other areas of care.
Hospitals, pharmacies, Doctor's / GP Surgeries, nursing homes, sports rehabilitation centres and all other businesses within the Healthcare Industry can use digital signage to benefit their business and below are just a few examples of how it can be used: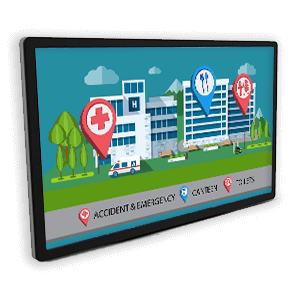 Get staff and patients to their appointment on time with our Digital Wayfinding solution. Interactive or static layouts can both be extremely effective in displaying location information, creating an engaging and informative experience for the user. Interested?
INTERNAL COMMUNICATIONS DISPLAYS
---
Cut through the copious amounts of everyday messaging with information that will not end up in their junk folders. Use Internal Communication Displays to promote, motivate, set targets and timetables giving viewers that extra information and boost throughout the day. Display live data feeds such as the news feeds, social and current company information to keep the workforce 'in the know'. Interested?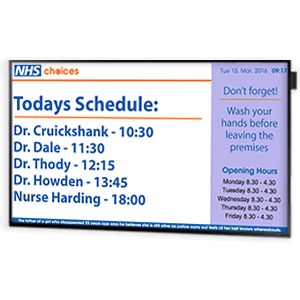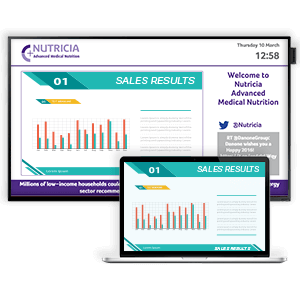 PRESENTATION SIGNAGE HYBRID DISPLAY
---
With our Presentation Signage Displays, display chosen information at all times such as the time, date and live data whilst displaying additional content via a HDMI input from a laptop or similar device. Interested?
CLEVERTOUCH INTERACTIVE TOUCHSCREENS
---
White boards are no longer with Clevertouch interactive touchscreens. Keep students engaged with interactive displays available up to 84″, 4K resolution and a inbuilt PC.
5 year on-site warranty as standard (UK Mainland)
Interested?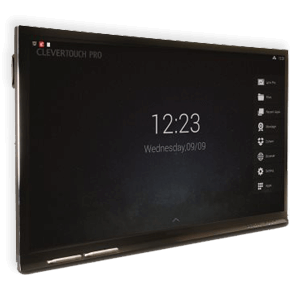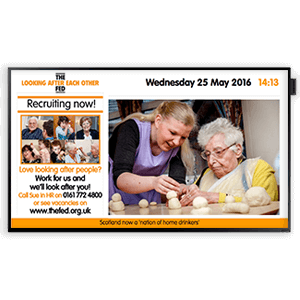 Incorporate an IPTV input to your digital signage system using Samsung's Smart Signage Platform displays. IPTV allows live video to be steamed straight into a zone so that the stream can be played alongside other important information. Perfect for reducing perceived waiting times for patients by up to 35%. Interested?
Our Digital Menu Board solutions give you the ability to easily edit and change content as you need. Cloud based solutions can be updated from anywhere with an internet connection. The menu boards not only get 400% More Views but can increase sales by up to 50%! Interactive options are available.
SEE WHAT OTHERS ARE DOING
Speak to one of our experts today