DIGITAL SIGNAGE FOR HOSPITALITY
The hospitality sector has an abundance of uses for digital signage. Through the use of eye-catching digital media content, digital signage can captivate an audience and not only help to deliver, real time, important messaging but also help increase sales and the up take of promotions.
Hotels, pubs, hostels, casinos, nightclubs, holiday resorts and all other businesses within the Hospitality Industry can benefit from the use of digital signage. Below are just a few of the ways digital signage can be used within Hospitality:
'Typos' and 'misprints' are no longer with Digital Pricing Boards. Easily update your pricing information with a simple excel spreadsheet using embed signage's digital signage software plugin, dynamic data. Interactive options are available. Interested?
Get customers and staff where they need to be with our Digital Wayfinding solution. Interactive or static layouts can both be extremely effective in displaying location information, creating an engaging and informative experience for the user. Interested?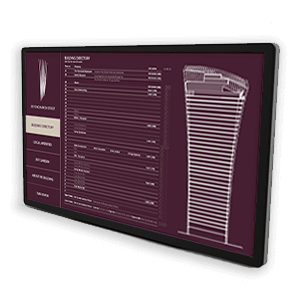 Our Cloud, LAN or USB biased Digital Menu Board solutions give you the ability to easily edit and change content as you need. Cloud based solutions can be updated from anywhere with an internet connection. The menu boards boast 400% More Views and can increase sales by up to 50%!
Interactive options are available.
Cut through the copious amounts of messaging with information that will not end up in their junk folders using Information Displays. Promote, motivate and inform. Display live data feeds such as the news feeds, social and current company information to keep the workforce 'in the know'. Interested?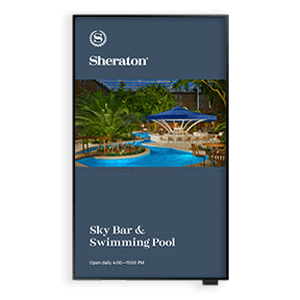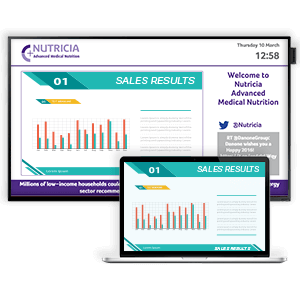 PRESENTATION SIGNAGE HYBRID DISPLAY
---
With our Presentation Signage Displays, important information is displayed at all times whilst showing additional content via a HDMI input from a laptop or similar device. Perfect for Conference and Meeting Rooms. Interested?
Incorporate an IPTV input to your digital signage system using Samsung's Smart Signage Platform displays. IPTV allows live video to be steamed straight into a zone so that the stream can be played alongside other important information. Interested?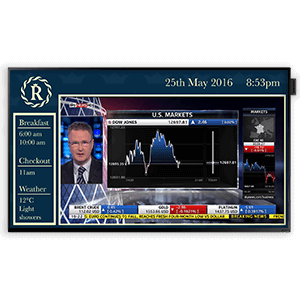 Digital room booking signs are a great way to manage multiple meeting rooms. Display availability and booked events outside each room using an online calendar system or integration options with various calendar systems such as Office 365, Exchange, Opera and Delphi.
Meeting summary displays are also available.
Our all-in-one sports bar screen solution is perfect for pubs, clubs and bars that show live TV through a Set Top Box with a HDMI, DVI or VGA output. Display marketing material alongside your live TV to push those extra sales, offer special promotions and claim advertising revenue.
ALLERGY INFORMATION BOARDS
---
EU Regulations now require allergy information to be shown with any food that is sold. Digital Allergy Information Boards make it easy, with the ability to update multiple screens with an Excel spreadsheet. Both Standard and Interactive (touch-screen) options are available.
Our Digital Specials Boards solution make updating your daily specials easy and efficient. The specials boards can be updated with simply editing and uploading an excel spreadsheet. The cloud based software from embed signage, supports multiple devices meaning you can displays your menus on devices such as iPads.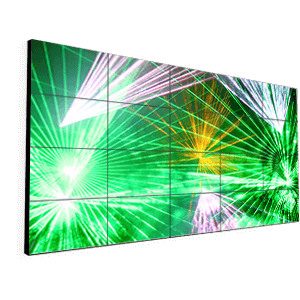 When you need to make an impact, our commercial grade video wall solution will do you proud. Potentially an huge number of commercial grade displays or tiles can be combined to create you the ultimate video wall. Interested?
Customisable to pretty much any size, Indoor LED offers a truly seamless bezel free display, wide viewing angle and superb image quality. 3 Year Zero Pixel Failure Warrenty included. Interested?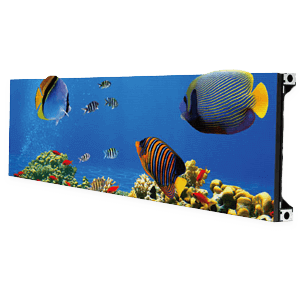 SEE WHAT OTHERS ARE DOING
Speak to one of our experts today