Product Description
The AOPEN Chromebox Mini is the smallest Chromebox on the market today running the Chrome OS platform. The small size combined with strong computing power creates the perfect solution for any commercial or corporate environment. The AOPEN Chromebox Mini is designed for signage, POS, corporate and kiosk markets with its high reliability and powerful enterprise grade solution, that operates 24/7 under tough conditions.
Advantages
---
Tough and tamperproof design for 24/7 operation
Smallest Chrome form factor available
Cost effective solution
Included dual band antenna offers a wide WiFi reach
Solid-state and fanless design
Chrome Device Management
---
The Chrome Device Management allows G Suite administrators to manage their Chrome devices from a single place. You will be able to configure chrome features for users, set up chrome device access via VPNs and WiFi network and force install apps and extensions. You can apply settings to specific users, everyone or specific devices. Most settings provide the option of enforcing a particular configuration or letting the user choose. You will need either an annual license or one that lasts for the lifetime of the device. View more about Chrome Device Management licenses below:
Additional Digital Signage Software
---
Paired with a compatible device,
embed signage cloud based digital signage software
let's users take control of their Digital Signage content. Software features include:
Create powerful and engaging content via the 'WYSIWYG' editor including Touch content.
Schedule content to play at under criteria such as day, date, time, tags and weather
Manage devices via an easy to use online dashboard
Enhance content with plugins and widgets such as weather, twitter and rss feeds at no additional cost.
And much, much more…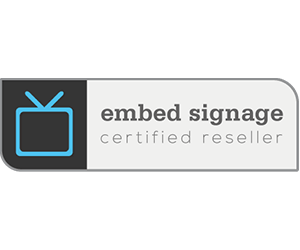 Start a Free 28 day trial of embed signage here.
What's In The Box
---
AOPEN Chromebox Mini
Power Cord
19V Adapter (40W AC to DC)
Dual Band Antenna x 2
User Manual
Download PDF
---
AOPEN Chromebox Mini PDF